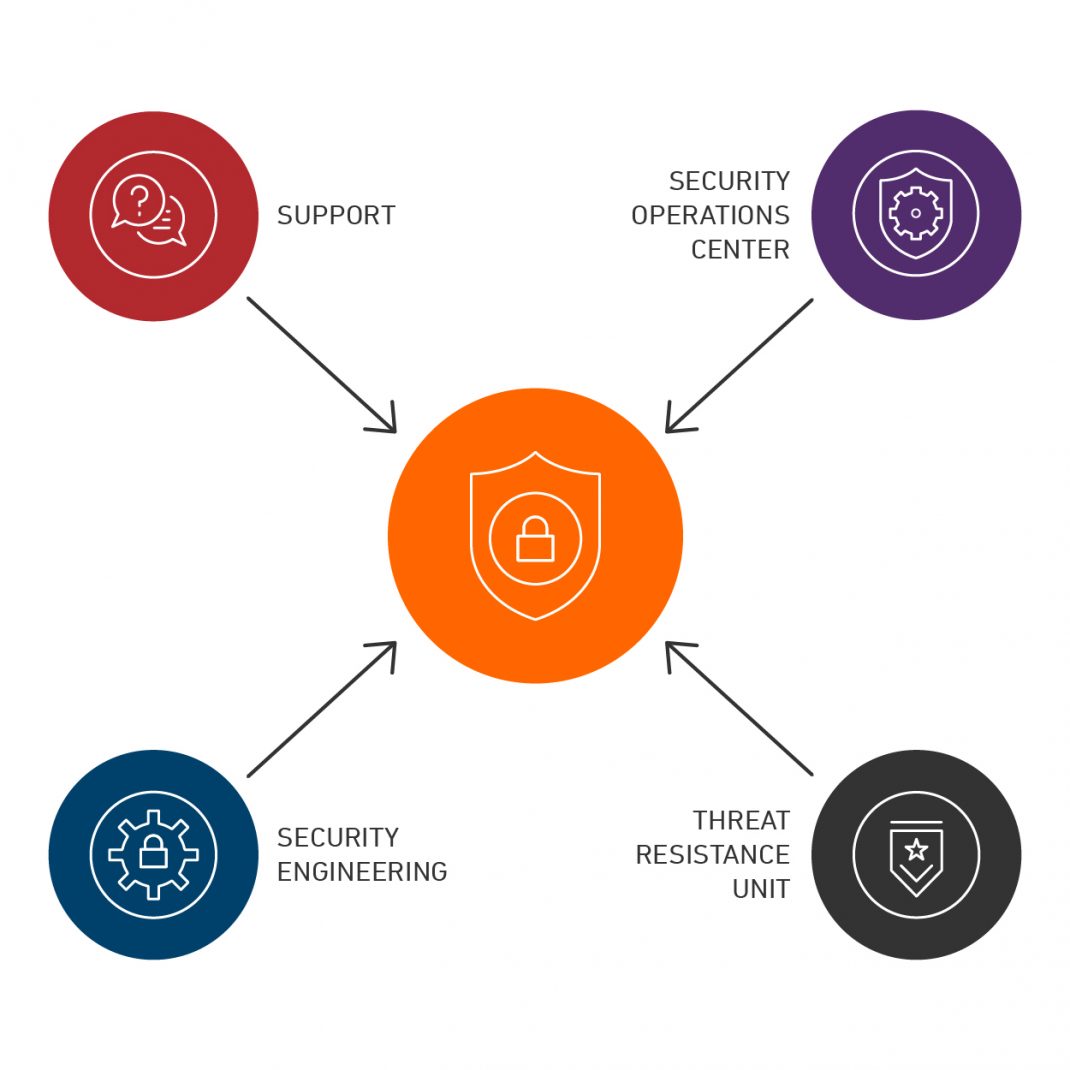 Truly Talented Cloud Security
How We Work
It's not one or the other. To effectively protect against cyberthreats in cloud and hybrid environments, you must be deeply experienced in both cloud and security. At Armor, we've honed this dual-expertise over the past decade by building and maintaining our own secure cloud infrastructure and defending it with the best security professionals and processes.
Armor's team comprises of:
Armor's Threat Resistance Unit (TRU) - TRU team collects, enriches,
and disseminates threat intelligence to ensure our experts stay ahead of threats.
Security Operations - Experts that extend your security program through 24/7/365 monitoring and protection.
Security Engineering - Experts that are responsible for the configuration and correlation of backend tools to provide enhanced security outcomes for our customers.
Support - Our extended support team bring additional value and insights for our customers for their environment.
Governance, Risk and Compliance (GRC) - Compliance experts with extensive years of experience that ensure that our secure hosting environment as well as our security capabilities are aligned and comply to major compliance and security frameworks.
The Advantages of Armor
Why Not DIY Security?
While doing it your self when it comes to cloud security has some advantages, the costs, complexity, and overabundance of security tools often outweigh the benefits.
Challenges include:
Hiring and retaining difficult-to-find security talent
Keeping pace with increasing security costs
Selecting the right tools to defend your data
Ensuring rapid incident response and management in the event of a data breach
Understanding and adhering to critical security controls necessary for compliance
Armor simplifies these challenges by supporting your team with built in security capabilities, reducing the noise, and providing guided response from our SOC in the case of an attack.
So, while there are still aspects you're ultimately responsible for when it comes to securing your data, we lessen that burden by providing expertise, guidance, and assistance when navigating the intricacies of security and compliance in the cloud.

White Paper
Security Operations: Build It or Buy It
Before deciding whether to build or buy a security operations center, organizations need to know the staff roles, technology, and costs needed to operate a successful SOC. Read the White Paper to learn more.
Ready to Get Started?
Get started with our Total Cost of Ownership (TCO) Calculator or schedule a demo.