DELIVERING SECURITY AND COMPLIANCE OUTCOMES
CONTINUOUS AND AUDIT-READY COMPLIANCE
Meet PCI, HIPAA, HITRUST, GLBA, GDPR and other compliance requirements related to collection, retention and analysis of your logs.
POWERFUL ADVANCED ANALYTICS AND CORRELATION
Detect threats that may be present in your environment and pose risk to your applications and data.
UNIFIED PROTECTION AND VISIBILITY
Collect, analyze and manage logs from anywhere in your environment whether on-premise, cloud or hybrid.
SIMPLIFIED LOG MANAGEMENT
Turn up Armor's Log Management service in just minutes and offload the burdens associated with log management and analysis.
Rapid Turn-Up
Easy turn-up of log collection in minutes
DevOps supported /DevOps approved
Log Storage and Retention
Up to 13 months of log storage available
Storage of incident-related analysis and data
Advanced Analytics And Correlation
Performed by Armor Spartan threat prevention and response platform
Advanced analytics and correlation capabilities applied to log and other collected data
Detection of malicious activity
Rule-based automatic alerting
Available onboarding for parser and custom rules development
Cloud-Delivered Managed Security Services
24x7x365 Security Operations Center staffed by expert security analysts
Continuous and automated response to eliminate threats
Continuous threat hunting to uncover hidden threats
Visiblity and Reporting
Visibility and access to logs via the Armor Management Portal (AMP)
View of daily log volume by hour, sources, events per source and top sources by index size and EPS calculations
Robust search and filtering capabilities
Compliance
Support for PCI, HIPAA, HITRUST, GLBA, GDPR and other compliance requirements
Audit-ready reporting
Storage for incident-related analysis and data
Armor holds the following certifications and designations
PCI DSS Level 1-Certified (Highest attainable)
HITRUST CSF-Certified (Certified for HIPAA Compliance)
ISO/IEC 27001 (2013) Certified
SSAE16 Certification
Privacy Shield Framework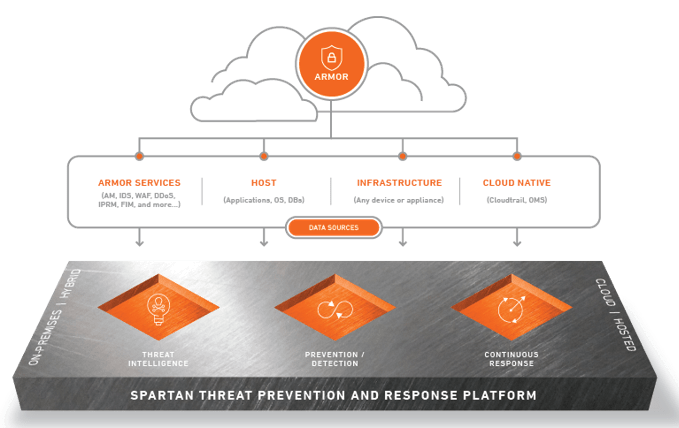 Powerful Log Analysis and Correlation to Identify Potential Threats to Your Organization
Advanced analysis and correlation of logs are powered by Spartan, the industry's leading threat prevention and response platform that outthinks and outpaces threats at the speed of cloud.
ARMOR MANAGEMENT PLATFORM
UNIFY LOG MANAGEMENT
The Armor Management Portal provides unified management of your logs from any device in any environment.
UNIFY YOUR ENVIRONMENT WITH AMP
Turns up log collection, analysis and management in minutes
Provides real-time reporting on devices sending logs, usage, retention and cost
Delivers powerful self-service capabilities and search tools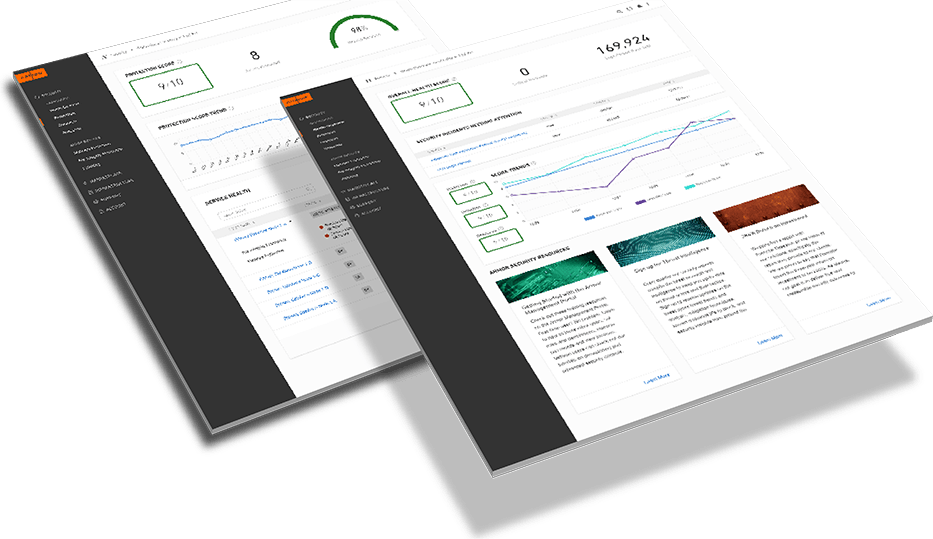 Armor Management Portal Features